ささめきこと
ささめきこと
(Sasameki Koto) is a yuri manga series by Takashi Ikeda. It has been serialized in Media Factory's seinen manga magazine Monthly Comic Alive since May 26, 2007, and collected in three bound volumes as of September 2008.
Sasameki Koto manga is a cool story of both BFF. Well as you see Sumika is in love with her friend, Ushio but Ushio is only interested in cute girls. This makes Sumika down on attempting to confess her feelings to Ushio. This story is kinda funny to read and many exiting events will come to Sumika and Ushio. Hmmm...I wonder when will these 2 confess to each other...Well, lets just find out the rest of the chapters.
CHARACTERS:
MURASAME SUMIKA
Sumika is in love with her best friend, Ushio.Sumika loves karate, but gave up practicing it formally because it was "uncute". She is prone to jealousy as she is forced to watch Ushio crush again and again on girls who are not her - and ends up patching up her broken heart as her feelings always end up unrequited. Despite her own feelings, Sumika wants Ushio to be happy and wishes her friend could find love - even if it's not with her.
KAZAMA USHIO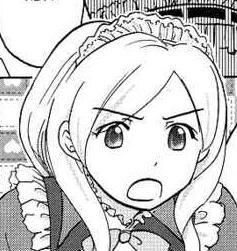 Ushio is the best friend of Sumika and always has been - oblivious to Sumika's feelings for her (though she does at one point recognize that Sumika is in love, and feels guilty, even, for not realizing it sooner; she just doesn't understand that it's her Sumika feels that way with). Ushio has made it clear that Sumika isn't her type; Ushio's "type" consists of -cute- girl; small and feminine and innocently curious, the kind one would want to protect, and Sumika far from falls into that category.
TAEMA MIYAKO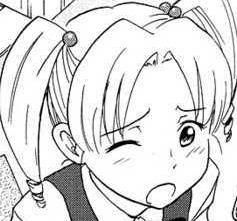 Miyako's a cute girl and also a classmate of Sumika and Ushio. This girl is want to be protected by anyone.Oh well, that's her own charm for being like that.she and tomoe has a relationship. On chapter 3, While Sumika and Ushio was going to their room they saw them kissing but they didn't know their identity yet until later.
AKEMIYA MASAKI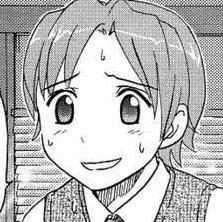 Akemiya is a classmate of Sumika's, though Sumika doesn't take notice of him until he one day tells her he thinks she's cute. This is a comfort to Sumika, who feels "uncute" but wants to appear that way in hopes that her best friend, Ushio, may return her feelings; Ushio makes it clear again and again that she likes "cute" girls.

What Sumika doesn't realize until later is that Akemiya notices Sumika's insecurity to a great extent because he was a girl Sumika saw in a store the previous day and wanted to emulate because she looked like the type Ushio would crush on. Akemiya developed feelings for Sumika, but, once he realized that Sumika was in love with Ushio, his younger sister, amused, convinced him into cross-dressing to gain her attention. She sent a photo of him dressed as a girl to a magazine. The magazine hired him, and, before he knew it, his pictures of him modeling as a girl were published and distributed. Akemiya found the entire situation embarassing and went around confiscating copies of the magazine, but did so dressed as the model, too prideful to buy the girly magazine as a boy. He saw Sumika in the store upon doing so.

He confesses to Sumika, after she discovers his true gender, who likewise agrees that she has feelings for Ushio. Akemiya asks if he's not good enough for her, but Sumika says simply that her feelings are for Ushio and that she can't bring herself to give up on her.
AZUSA AOI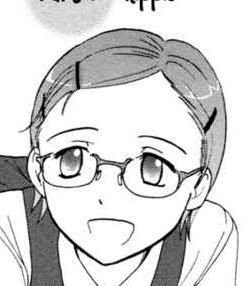 Aoi is a classmate of Sumika, Ushio and the rest's. She developes a crush on Sumika and starts hanging out with her and her friends when, after having her first kiss stolen by Tomoe and being ganged up on by her classmates, she's driven to run out of class. Sumika follows her and comforts her.

Aoi is a gushing fan of the yuri light novels penned by Ushio's brother and a member of his fanclub (though she believes the author is a sensitve, beautiful woman and has no idea of his real identity. Sumika and Ushio desire to keep it that way). Aoi draws doujinshi for his books, but is inspired to create her own original yuri romance and wants to do so with Sumika. She becomes extremely saddened when Sumika at first is reluctant, to the concern of her parents, but ends up helped and again comforted by her in the end.
KIYORI
Kiyori is Sumika and Ushio's best friend whom not much is known about. She has a cheerful demeanor and is rarely seen not eating in the manga. She isn't interested in girls but is well used to Ushio's crushes and talk of wanting a cute girlfriend, and supportive to her and the formation of the Girls Club; she ends up joining just to make the requisite number of members. Her biggest complaint is that Sumika's occasional jealousy-induced awkwardness to, sadness around and meanness towards Ushio spoil her desired peaceful lunch.
HACHISUKA TOMOE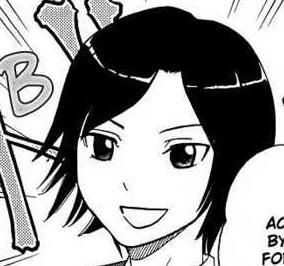 Tomoe and Miyako one day catch Sumika and Ushio "practicing" kissing with a plastic mask (an idea suggested by Ushio upon realizing Sumika has feelings for someone - though Ushio doesn't know that someone is her) and draw the conclusion that they, too, are a couple. When they confront Sumika about the kiss, they learn that her feelings are one-sided.Tomoe is not in denial about her sexuality nor ashamed of it, and she and Miyako are unseperable. Once she starts hanging out with Sumika, Ushio and their friend Kiyori, however, she and Miyako confess that they never really were able to make friends because of their relationship and are grateful to be able to have fun with others as friends now.